Owner Spotlight: John C. Saunders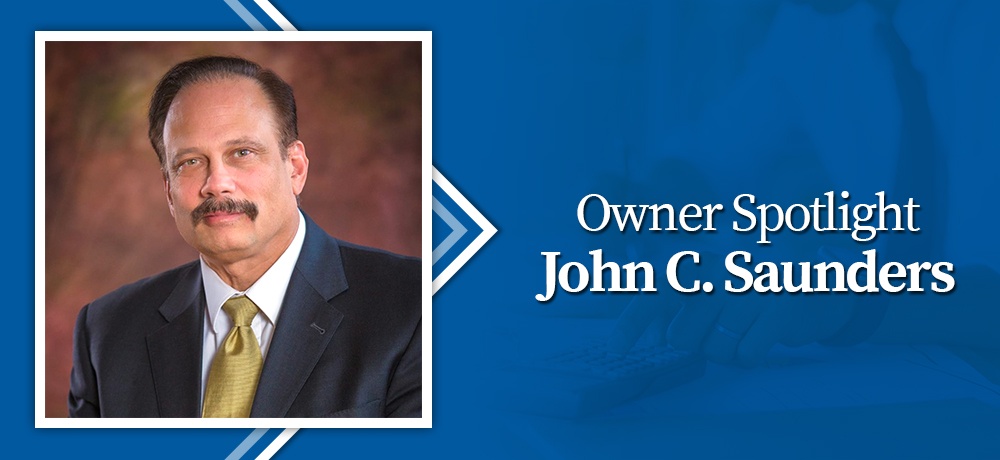 I am John C. Saunders, the principle owner of John C. Saunders, CPA P.C.
I look forward to sharing my story, and I hope that you will enjoy getting to know me better.
I have always felt that accounting reports were the center of business language. Therefore, it became a language I wanted to learn because I always liked being independent and knew that a business of my own was my core desire.
After graduation, passing the CPA exam, and working for seven years in this field, I recognized the impact of tax accounting but also became weary of old firm politics and the lack of care for their young talent.
Even so, I found being around business owners and their key people was interesting, exciting, and addictive. So, I left my employer, with a very small following of interested clients. I was young, so I intended to try public accounting on my own terms or leave it for something else. Decades later, I am still doing CPA work and know I am well suited for it. I have been so engaged in it, I simply lost track of time.
My first job out of University was with a CPA firm in 1980. I started my own firm in 1987. I have never been out of work or wavered from public accounting through the present day.
As all start-ups, the operation today is better than it was in the beginning. Likewise, public accounting has been affected adversely by over-regulation and the over-reliance on computer technologies. The most important, core principles and lessons of accounting hold true though time. My practice has some amazing technologies today; however, my career spans the days of paper and pen to the current cloud-based philosophy.
Tax calculations and filing demands have grown in tandem with computing power. So, if I were to describe a calculation, it would be more complex as the years have passed. Computers have enabled tax and financial authorities to demand sharper, more pervasive calculations. Accounting is better today, but there will always be the need to understand what the accounting is telling you.
The most enjoyable part of CPA work is creating good outcomes for clients who appreciate it. Accounting is both a process and a language. So we enjoy coaching the process in others and interpreting the written results after the process is finished.
I believe that the business tells it's owner what to do. Most of my clients are business owners. Very often, they agree with this statement. Learn to listen carefully to what the business is telling you to do. I also believe that a good product or service should create more possibilities and positive outcomes than it consumes.
One of the primary factors behind my success is the fact that I care about what I do for others. People matter. Relationships matter. There is no substitute for tenacity. Always remain considerate, and remember it is necessary to go through the daily grind. In doing so, good outcomes usually follow.
For me, my satisfaction stems from a series of satisfying moments taken together. There are two aspects in these moments: That my firm can continue its clinical excellence and, in doing so, help create victories in our clients' lives.
When I am not putting my clients' books in order, I maintain a peaceful home life, and my hobbies include boat restoration and immersing myself in music performance and appreciation. I am also a firm believer in the liberty to do what is good and the promotion of edifying and morally sound liberty.
I have enjoyed sharing my story about the things which matter to me and how they influence the way I do business.
If you or someone you know could benefit from my expertise as an accounting firm in Rochester, New York, I invite you to get in touch. Please visit my website at www.johncsaunderscpa.com.
Sincerely,
John